[要威又怕死 ] 無個客批准我會放條片出街?Leica 風波廣告商聲明大反擊
https://www.eprice.com.hk/dc/talk/1430/25815/1/?fbclid=IwAR1C-ax1RXlYXsjPaBzkvOSwDojvQV2z-O6jgT2LFgqG5h6XL-vDlKQny1o
復活節多復活蛋我就聽過,但估唔到復活節都多花生! 日前鬧得滿城風雨的 Leica 風波的廣告製作公司 F/Nazca Saatchi & Saatchi 終於出聲回應! 字裡行間大反擊,其中一句更直指出:無客戶同意下,又點會放條片出街呀!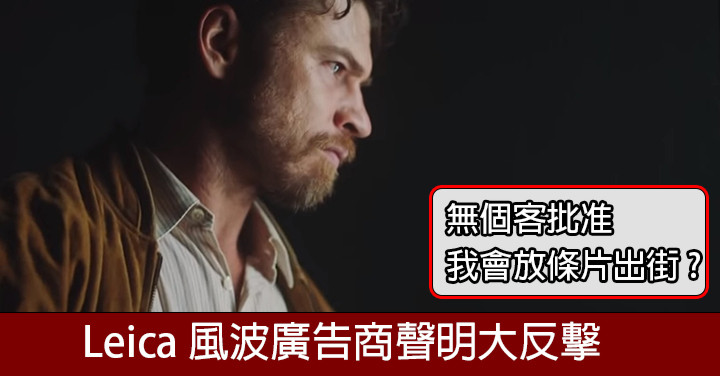 如果你仲未知道 Leica 風波係乜,請你到呢度、仲有呢度,花一分鐘時間睇下之前的事態發展。 南華早報引述 Leica 發言人話廣告並非獲得官方認可,但今日廣告公司將個波踢翻比 Leica 叫佢射波入網! 廢話少講,我將聲明原文(轉載自 Leicarumors),發比大家睇睇,內文確實充滿鬼佬的幽默、諷刺和不滿:
"F/Nazca Saatchi & Saatchi has worked for the representative of Leica in Brazil since 2012, developing content for several different media platforms for the client over this time. The agency has created pieces that made history in advertising and became communication cases, such as the commercial "100", created and produced to celebrate the 100 years of the brand, a work acclaimed around the world and awarded with the Grand Prix at the 2015 Cannes Festival.
The commercial "The Hunt", launched in Brazil this week, is another among these works that we have developed together with this client and for which we have immense pride and are sure to have delivered a remarkable piece.
F/Nazca, a 25 years agency completed exactly this week, would never harm its huge reputation by creating, producing and airing a work without the proper approval of its client.
Regarding the pronouncement by Leica Europe, since our relationship with the brand is restricted to the Brazilian market, we are unable to comment."
咩話? 睇唔明鬼佬的嘲諷與幽默? 等本 YK 嘗試翻譯比大家睇:
"F/Nazca Saatchi & Saatchi,姐係老子呢間公司,由 2012 年開始已經仆心仆命咁係巴西為 Leica 工作,一直負責為個客整 Media 平台呢樣果樣內容。其實,我地以前都出過唔同題材,包括以世界歷史為元素嘅廣告作品,仲變成獲獎的經典廣告案例。「100」就係為左個客 100 歲生日而做(裡面都有部分國家唔喜歡的歷史)。蒼天啊,呢條片當時仲獲得冚家讚賞,啊唔係,係冚世界都拍爛手掌! 2015 年 Cannes Festival Grand Prix 就係我地攞走左。
講翻 「The Hunt」呢條片,剛剛呢個星期係巴西發布,係我地同個客攜手搞出黎嘅結晶。對於能夠做出咁優秀的作品,我地就好似做人老豆咁,對呢個仔有無限的自豪感。
老子我出黎行已經有 25 年、縱橫四份一世紀喇。 我撫心自問從未對任何女人唔住,啊唔係,係點會咁低能走去玩 X 自己,(係無客戶比錢嘅情況下)浪費時間、用咁多心血整一個咁高質嘅廣告出黎? 而且,你覺得作為一個廣告界頂級聲譽的老屎忽,我會係未獲得客戶同意之前放條片出街? maybe 囉!
噢,唔好意思,大家唔好誤會,我可能講得唔清楚,其實上面一路講緊都係巴西 Leica,係巴西呀!畢竟 me 同呢個客嘅關係只限於巴西市場。 至於之前歐洲 Leica 出嘅聲明,因為距離太遠聲波傳送唔到過去,所以老子我無法回應,完。"
睇完個聲明之後,相信好多網友都好似本 YK 咁,期待歐洲 Leica 或者巴西 Leica 有咩回應~